english version
Bei Yesasia.com kann man seit neulich die Printausgabe von
Cloverfield Kishin manga
kaufen.
Doch falls Sie dort auf den Film unter dem Titel
"batorufi rudotoukyou" (Battlefield Tokyo)
stossen, dann müssen Sie wissen:
dies ist die Produktion des berühmt berüchtigten Filmstudios
The Asylum
.
Sie haben ein bemerkenswertes Geschäftsmodell: Kaum erfährt dieses Filmstudio über einen sich nahenden Blockbuster, wie
"Transformers"
oder
"The Day the Earth stood still"
, da basteln sie schon an Filmen mit schrecklichen Special Effects und noch grausameren Schauspielerleistung, dabei aber mit zum Verwechseln ähnlichen Titeln wie
"Transmorphers"
oder
"The Day the Earth stopped"
. Und (auch wichtig) sie schaffen es, ihre Filme am Tag vor der Premiere des Originals zu zeigen. So lenken sie die Aufmerksamkeit auf sich (und ich weiss nicht, wie hoch ist die Quote der zurückgeforderten Tickets bei solchen Vorstellungen).
Während des Bastelns an eigenen Streifen haben die TheAsylum-Produzenten noch keinen Zugang zu den Originalfilmen (da sie erst einen Tag nach der Premiere von TheAsylum-Fakes anlaufen). Daher orientieren sie sich vollständig nur auf die Wiedererkenbarkeit in Trailern, und daraus kleben sie den Film zusammen. Nein, es ist kein
Schweden
. Ich frage mich, ob das ganze kreativ ist, oder lediglich Geldmacherei.
Wir bei Unfiction
haben
bereits
in Foren
über die einzigartige "Produktion" unter dem Titel
"Monster"
gesprochen. Es ist schon witzig, wie diese Plagiatoren den Film Cloverfield veräppeln. Dabei handelt es sich nicht um eine Parodie (wie
Disaster Movie
), sondern um einen bierernsten Streifen, der bei Verwechslung mit dem Original für spätere Wutanfälle und das In-die-Fernbedienung-Reinbeissen sorgen können.
Aber nicht mehr lustig ist, wie sie den Film vermarkten. Versuchen Sie den Unterschied zwischen dem Original-Plakat von "Cloverfield"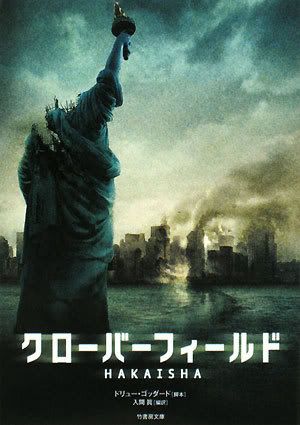 und Asylum-Plakat von "Monster" (aka "Battlefield Tokyo")
zu unterscheiden. Gleiche Farbgebung, gleiche Schriftart, sogar die Verbindung von
Hiragana
und
Romaji
ist die gleiche. Sie sind graphisch zum Verwechseln ähnlich. Man mag sogar vermuten, die "Tokyo"-Version sei eine neue Verfilmung aus der Reihe "Cloverfield".
Also, ich empfehle diese Fake-Produktion nur dann zu kaufen, wenn man sich die grauenerregende Schauspielerleistung und rtl-B-Movie-mässige Special Effects bewundern möchte. Oder als einen Gag für einen echten Cloverfieldian. Nur dass 50 $ für einen Gag doch etwas zu happig ist.
P.S. Ach übrigens, hier können Sie sich den Trailer von "Monster" selbst anschauen. Ist ziemlich deprimierend, die Qualität. Ich habe Sie gewarnt.
http://www.theasylum.cc/video/Tokyo_trailer_16x9.mov